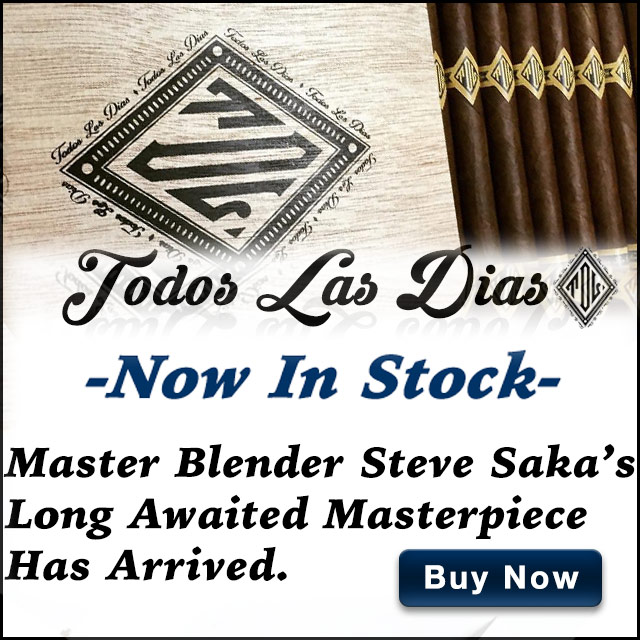 Steve Saka, veteran and master blender, originally credited for the creation of Liga Privada No. 9, has AGAIN stepped up his blending game—delivering a full bodied, full flavored, limited production heavy hitter entitled: "Todos Los Dias", or "All of The Days". This blend has been noted as the strongest yet of Saka's portfolio - releasing a no-holds-barred Nicaraguan puro that will have even the most discerning of palates in for quite a wild ride of awesome flavor.

The story behind the blend is as follows: Roughly 20 years ago, Steve was gifted an extremely full bodied vitola by Estello Padrón; when asked if he actually smoked such a strong cigar, Padrón responded, "Todos los días Saka, todos los días." This translates to, "Every day Saka, every day."
Using a high-priming, this vitola showcases the pungent Jalapa and Estelíano tobaccos in the filler, an Esteli-grown binder, and a Cuban-seed, Nicaraguan Broadleaf wrapper, something Saka has gotten very famous for using. This blend has been specially chosen to highlight the fiery, bold qualities of Nicaragua's intense, volcanic soil. Believe me when we say, this is the stick that Saka's fans will be talking about for a long time. Order your box now and receive 10% off per box that you purchase. Get them while you can, this is a limited production box and they will go quick!
Todos Las Dias By Steve Saka